Apollon Nutrition TimeCop [V2]
Apollon Nutrition TimeCop [V2]
Apollon Nutrition TimeCop is a limited edition which brings together 2 amazing Apollon Nutrition products Bare Knuckle and OVERTIME. This combo creates a monster Nootropic pre-workout that will hit you with amazing energy and will keep you focused and buzzed way beyond your workout. 
What you can expect from TimeCop
Hard-Hitting Energy
Great Pumps
Amazing long lasting Focus
Supplement Facts TimeCop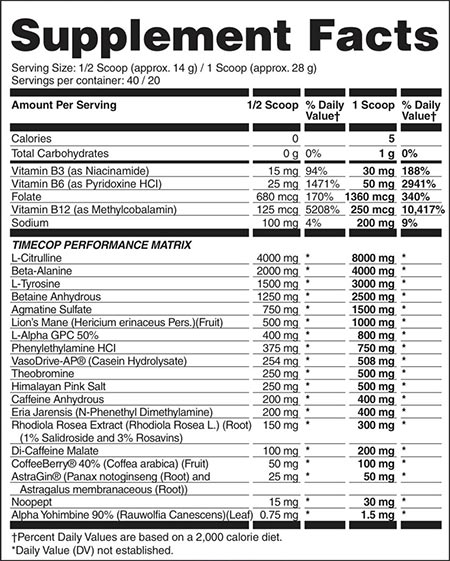 Pre Workout Reviews [V2]
Our take on TIMECOP
Timecop is an amazing pre-workout and one of a kind. Close your eyes and imagine what would a combination of overtime nootropic and bare knuckle would feel like, and this is what you should expect from TIMECOP. Also, this is one of these pre workouts that proves that flavors don't matter if the pre workout is amazing :) 
What changed in V2 vs V1

Shipping FAQ
Most of the ingredients stayed the same at V1. With that said, Hordenine was removed and beta-alanine increased by 25%, Eria jarensis bumped to 400 from 300mg, 50% more tyrosine, and the focus-supporting alpha-GPC now at a slightly higher 800mg from the original's 600mg.
USA priority shipping is flat rate and FREE over $60. All orders ship priority and should arrive within 2-4 business days.
International shipping cost depend on destination and prices are based on our discounted rate taken from the carriers. Shipping times depend on level of service you choose.
We ship fast :)
Get your order in before 2 pm eastern for same-day dispatch. All other orders will ship next business day.
You'll receive both a dispatch notification and a tracking link once your order has been processed.
Please allow 24 hours for scans to start appearing on the tracking link
All orders will be processed within 1 business day pending any delays
Time cop baby!
First time me taking this pre-workout definitely impressed. The taste isn't bad it's a pretty big serving gives me super focus and get you pumped up for your work out. It was a good purchase I would recommend.
Timecop
I am very grateful for supps central. Not only do they carry top quality products but they deliver them in good time . Timecop pre workout is a game changer .The only minor thing that I didn't care for was the coconut flavor in the one I purchased. But , it wasn't a deal breaker. I am a very mature lifter and this product helps me through tough leg days .
Wow
Explosive energy right out of the gate and at last a long time good for those extra reps and obtaining new goals.