Apollon Nutrition TimeCop [V2]
Apollon Nutrition TimeCop [V2]
Apollon Nutrition TimeCop is a limited edition which brings together 2 amazing Apollon Nutrition products Bare Knuckle and OVERTIME. This combo creates a monster Nootropic pre-workout that will hit you with amazing energy and will keep you focused and buzzed way beyond your workout. 
What you can expect from TimeCop
Hard-Hitting Energy
Great Pumps
Amazing long lasting Focus
Supplement Facts TimeCop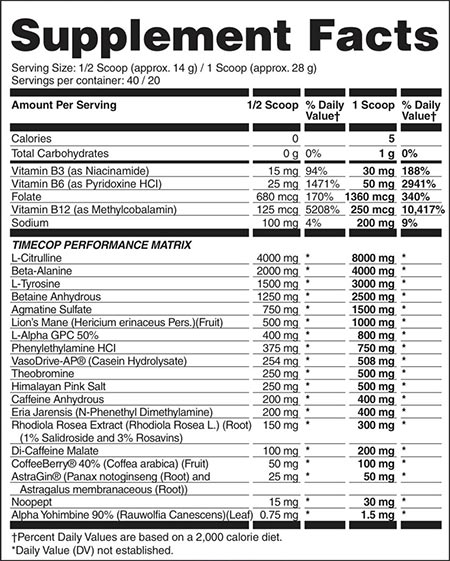 Pre Workout Reviews [V2]
Apollon Nutrition TimeCop [V2] ingredients highlights

What changed in V2 vs V1

Shipping FAQ

FDA Disclaimer
Apollon Nutrition TimeCop [V2] ingredients highlights
*Citrulline is included at a dosage of 8000mg to support nitric oxide production, leading to improved blood flow, muscle pumps, and nutrient delivery during workouts.

*Beta Alanine at 4000mg helps improve endurance by buffering lactic acid buildup, reducing muscle fatigue, and supporting prolonged exercise performance.

*Tyrosine at 3000mg is known for its cognitive-enhancing effects, improving focus, mental clarity, and mood during workouts.

*Betaine Anhydrous at 2500mg enhances power output, supporting strength gains and improved athletic performance.

*Agmatine Sulfate at 1500mg helps enhance pumps by preventing the breakdown of nitric oxide, leading to improved blood flow and muscle fullness.

*Lions Mane Extract at 1000mg is an adaptogenic mushroom known for its potential cognitive benefits, including improved focus, memory, and overall mental well-being.

*Alpha GPC 50% at 800mg is a choline compound that supports the production of acetylcholine, a neurotransmitter associated with improved cognitive function and focus.

*Phenylethylamine HCl at 750mg is a neurotransmitter that can enhance mood, focus, and motivation during workouts.

*VasoDrive AP at 508mg is a patented ingredient derived from casein hydrolysate, known for its potential to support blood flow, vasodilation, and muscle pumps.

*Theobromine at 500mg is a compound found in chocolate that provides a smoother and longer-lasting energy boost compared to caffeine.

*Himalayan Pink Salt at 500mg aids in hydration and electrolyte balance, supporting optimal muscle function and preventing cramping.

*Caffeine Anhydrous at 400mg provides a significant energy boost, improved focus, and heightened alertness to enhance workout performance.

*Eria Jarensis at 400mg is a stimulant known for its potential energy-boosting and mood-enhancing effects during workouts.

*Rhodiola Rosea Extract at 300mg is an adaptogenic herb that can reduce fatigue, improve cognitive function, and enhance overall well-being.

*Di Caffeine Malate at 200mg is an extended-release form of caffeine that helps provide sustained energy and focus with reduced crash effects.

*CoffeeBerry 40% at 100mg is a source of antioxidants and potential cognitive benefits, including improved focus and mental performance.

*AstraGin at 50mg aids in the absorption and bioavailability of the ingredients, ensuring their optimal utilization in the body.

*Alpha Yohimbine at 1.5mg is a compound derived from the yohimbe tree bark, known for its potential fat-burning and energy-enhancing effects.
Our take on TIMECOP
Timecop is an amazing pre-workout and one of a kind. Close your eyes and imagine what would a combination of overtime nootropic and bare knuckle would feel like, and this is what you should expect from TIMECOP. Also, this is one of these pre workouts that proves that flavors don't matter if the pre workout is amazing :) 
Most of the ingredients stayed the same at V1. With that said, Hordenine was removed and beta-alanine increased by 25%, Eria jarensis bumped to 400 from 300mg, 50% more tyrosine, and the focus-supporting alpha-GPC now at a slightly higher 800mg from the original's 600mg.
USA priority shipping is flat rate and FREE over $60. All orders ship priority and should arrive within 2-4 business days.
International shipping cost depend on destination and prices are based on our discounted rate taken from the carriers. Shipping times depend on level of service you choose.
We ship fast :)
Get your order in before 2 pm eastern for same-day dispatch. All other orders will ship next business day.
You'll receive both a dispatch notification and a tracking link once your order has been processed.
Please allow 24 hours for scans to start appearing on the tracking link
All orders will be processed within 1 business day pending any delays
The information provided on this website is intended for general informational purposes only. It is not intended as a substitute for professional medical advice, diagnosis, or treatment. Always seek the advice of your physician or other qualified health care provider regarding any medical condition or treatment.
The statements made regarding the products on this website have not been evaluated by the Food and Drug Administration. The efficacy of these products has not been confirmed by FDA-approved research. These products are not intended to diagnose, treat, cure, or prevent any disease.
Individual results may vary. The results and testimonials presented on this website are not guaranteed and may not reflect the typical user's experience. The products and claims made about specific products on or through this website have not been evaluated by the United States Food and Drug Administration and are not approved to diagnose, treat, cure, or prevent disease.
The information, products, and services provided on this website are provided "as is" without any representations or warranties, express or implied. We make no representations or warranties in relation to the completeness, accuracy, reliability, suitability, or availability of the information, products, or services contained on this website.
You should consult with a healthcare professional before starting any diet, exercise, or supplementation program, before taking any medication, or if you have or suspect you might have a health problem.
We are not responsible for any liability, loss, or damage caused by your reliance on the information or products provided on this website.
By using this website, you acknowledge and agree to the above disclaimers and the terms and conditions outlined in our Terms of Service and Privacy Policy.
Worth the money
Gave me energy and focus almost the whole day 💪
Up Up and Away
Hi Dave and Ben,
Foremost, I want to thank you again for your outstanding customer service.
I found Apollon Nutrition TimeCop (V2) to be an all-around excellent pre-workout choice. Focus, pumps, energy, endurance, was very noticeable.
Apollon Nutrition TimeCop [V2]
Damn !!!!!
Hands down one the best pre workouts I've used in some time.
Going to have to bunker a few bottles of this !!!